Replace Missing Teeth With Dental Implant Surgery in Terrace
With a look and feel nearly indistinguishable from natural teeth, dental implants are becoming an increasingly popular alternative to other tooth replacement treatments. Fortunately, our Horizon Dental team is trained to perform all implant procedures and dental implant surgery in Terrace, right here in our own office!
An implant-retained prosthesis is essentially composed of a metal post and a tooth-coloured crown. The metal post (i.e., the implant) is surgically inserted by your dentist into the bone beneath your gums, where it mimics the root of a real tooth. Once the implant is in place, a replacement tooth crown can be attached to the top of the metal post. Together, the post and crown function, feel and appear just like a natural tooth! Individuals exploring the option of implants should familiarize themselves with the range of options available at Horizon Dental:
Types of Dental Implants
We offer a number of different implant types, most of which fall into one of the following two categories:
Conventional Implants
The standard dental implant is composed of two parts: the implant, which is surgically inserted into the bone, and the attachment, which, after several months of healing, is fastened to the implant to couple it to the prosthesis. The attachment can be fastened to the implant via cementation or a screw mechanism. With a large variety of implant attachments available, traditional implants offer maximal strength and durability in both fixed and hybrid prosthesis systems (see below). Candidates for traditional implants need to have healthy gums and adequate bone levels to support the implant.
Mini Dental Implants (MDI)
Mini dental implants (MDI) are single entity implants that are smaller in diameter than conventional dental implants. Because of their smaller size, MDIs are a great treatment option for individuals with lower bone levels who would otherwise not qualify for ordinary implants without additional bone grafting. The MDI has not been shown to be any less effective or durable in tooth replacement treatment than conventional implants. MDIs can serve as supports for both permanent prosthetics, such as crowns, bridges and fixed dentures, and removable full and partial dentures. The significantly lower cost of mini implants makes them a feasible alternative to standard dental implants.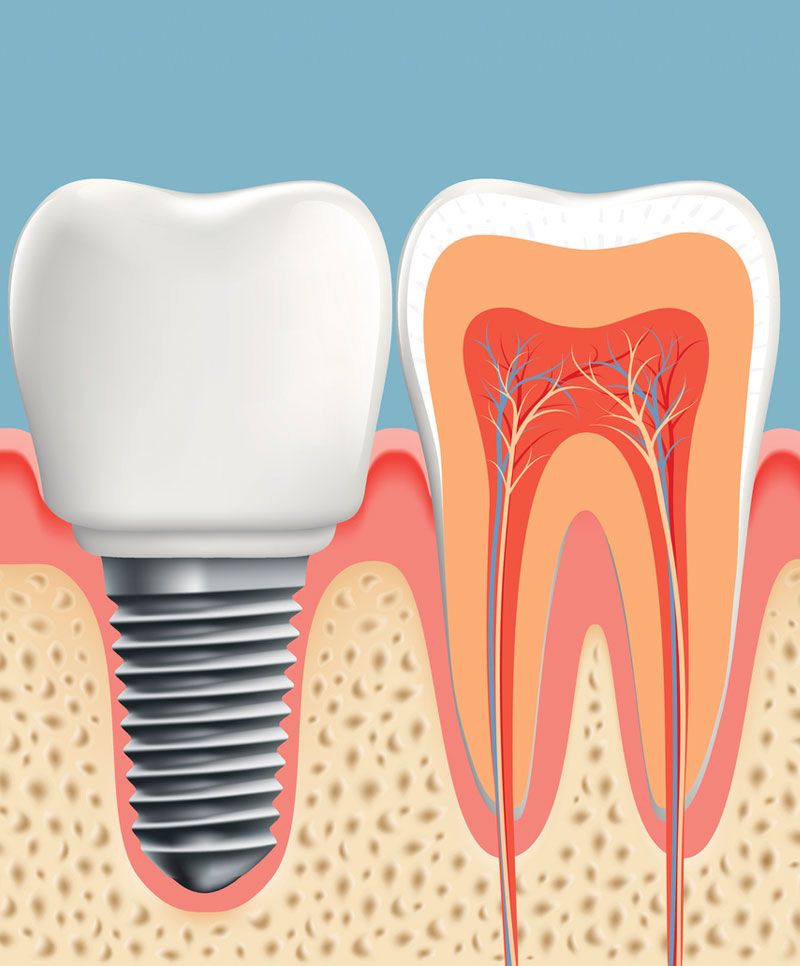 Fixed Prosthesis System
For many individuals, the option of dental implants is attractive due to its long-term durability and success. Nowadays, dental implants can permanently support almost any type of tooth replacement, using a fixed prosthesis system.
Hybrid Prosthesis System
The hybrid denture system is called a hybrid because it is a combination of both fixed dental implants and a removable prosthetic denture. With this system, patients are able to enjoy the stability of implants in addition to the flexibility of a removable prosthetic. There are several different mechanisms for retaining a hybrid denture system. At Horizon Dental, we offer the two most common:
Locator Attachment System
This system, established with conventional dental implants, is typically used to 'snap' overdentures into place. The implant attachment, called a locator, features a concave surface; the overdenture, which is to be retained by the implant, features a convex mount, called the locator cap. Together, these two appliances (left) will function in a snap-button mechanism. While every patient has unique clinical needs, the average number of locators required to mount a full denture is 4 – 6.
Locator Bar Attachment System
Instead of using individual locator attachments, patients may choose to retain their overdentures with a locator bar attachment system. This particular mechanism utilizes locators embedded in a metallic bar (right) to increase the retention strength of the implant and to allow the overdenture to be 100% supported.
Each Horizon Dental patient, exploring the option of implants, is required to undergo thorough evaluation by one of our dentists to determine eligibility for implant treatment.
At your next appointment, feel free to talk to one of our dentists about your suitability for dental implants!
You can reach our office at 800-549-5594. One of our knowledgeable staff can answer any questions you have about this treatment or any of our other services.
Dental Implants
Replace your missing tooth with our dental implants.