Our Team
The best dental team for your smile!
Great People Make a Great Team
At Horizon Dental, Dr. Thomas Nenninger and his team are dedicated to ensuring that their patients receive the best dental care possible. As a group, we are committed to peak performance. We are continually taking courses to stay informed of the latest technologies and treatments so that you receive the very best dental care available.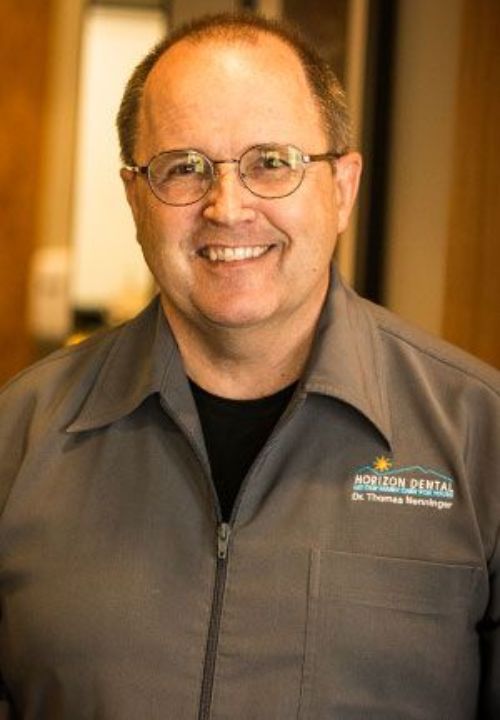 Dr. Thomas Nenninger
Dr. Nenninger began his professional journey as a physiotherapist, joining the Terrace community in 1979. His interest in dentistry developed during his treatment of temporomandibular joint (TMJ) conditions, nowadays recognized as a dental subspecialty. In further pursuit of this interest, Dr. Nenninger went on to complete additional undergraduate degrees, and obtained his Doctor of Dental Surgery at the University of Alberta in 1994. Since graduating from dental school, Dr. Nenninger has worked as a general dentist in Terrace and surrounding areas, including clinics in Dease Lake and Stewart. Dr. Nenninger has trained extensively in the fields of orthodontics, cosmetic dentistry and implant surgery.
Dr. Nenninger's love of incorporating technologies into dental procedures is what makes Horizon Dental his most ambitious project yet. His goal in creating Horizon Dental was to blend traditions that make us feel comfortable with cutting edge technologies in order to provide the most modern and up to date dental facility available to the communities we serve. When he is not doing dentistry, Dr. Nenninger spends time with his family and enjoys hiking, fishing and skijoring with his team of Siberian Huskies.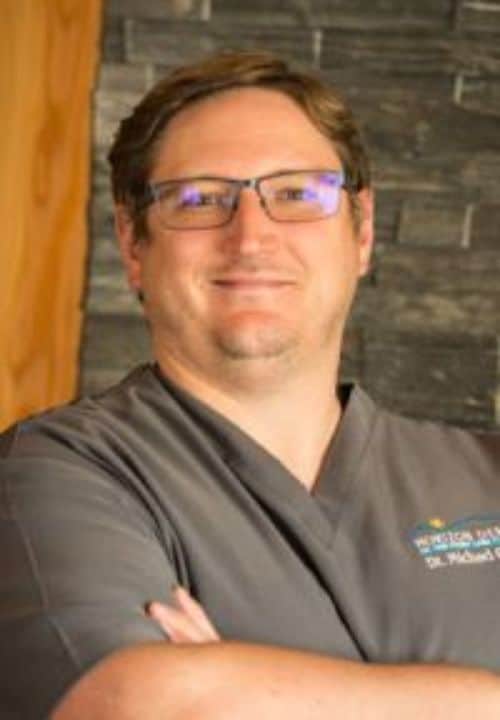 Dr. Michael Cooper
Born and raised in Terrace, Michael graduated from Caledonia Sr. Secondary in 1996. After spending one year at Northwest Community College, he completed his BSc in Animal Biology at UBC and graduated in 2000. Michael attended Loma Linda University in California and graduated with his DDS in 2007. An integral part of the Horizon Dental team, Michael's boisterous laugh is often heard throughout the building. His genuine compassion for his patients is demonstrated by his ongoing effort to ensure quality patient care.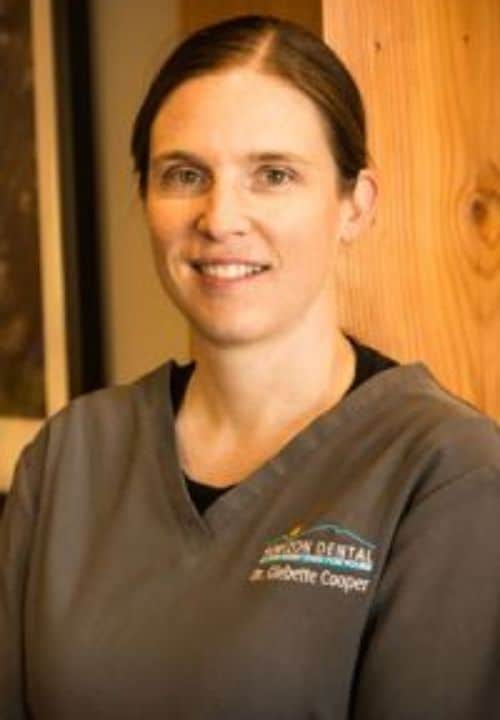 Dr. Giebette Cooper
Dr. Giebette Cooper became interested in dentistry after working with her father while she was in high school at Caledonia Sr. Secondary. She graduated in 2000 from UBC with a BSc in General Biology. She completed her dental training at the U of S in Saskatoon, graduating as a DMD with distinction in 2005. She has practised dentistry part-time since graduation. Giebette focuses on patient care under IV sedation. She enjoys sharing the clinic with her father, Dr. Thomas Nenninger, and her husband, Dr. Michael Cooper, and is proud to be part of a family, which values providing care for families in Northwestern BC. When she is not at the clinic, Giebette focuses on family life and taking care of her 4 children.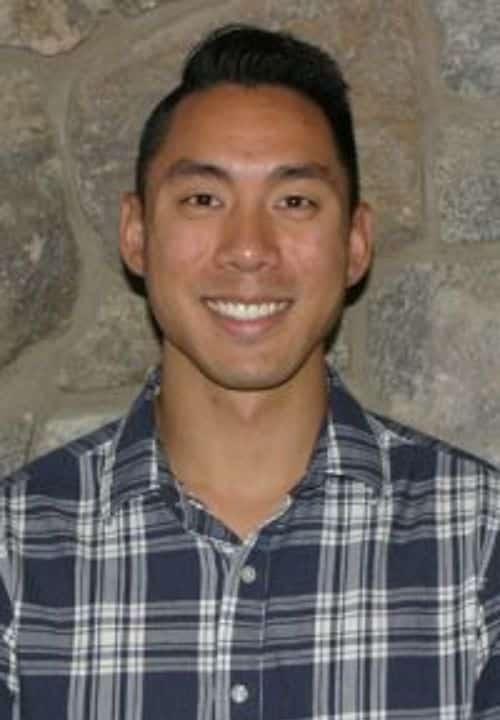 Dr. Bryan Lim
Dr. Lim was born in Calgary, Alberta. Visits to the dentist as a child piqued his interest in the field of dentistry. His alma mater includes the University of Calgary and University of Alberta, where he received his Bachelor of Medical Science and Doctor of Dental Surgery (DDS) degrees. Dr. Lim is a firm believer in lifelong learning and strives to give his patients the best care possible by incorporating new technologies and practices. Dr. Lim's philosophy is simple; he views and treats his patients like family. That is, with kindness, respect, and honesty. Dr. Lim aims to build a positive relationship with every patient. Dr. Lim's hobbies include hiking, camping, weightlifting, snowboarding, and martial arts. Dr. Lim seeks to improve the well-being of his community and regularly donates his time to volunteerism. He has previously worked with organizations to deliver free care for homeless individuals in Edmonton, and those living in impoverished nations such as Guatemala.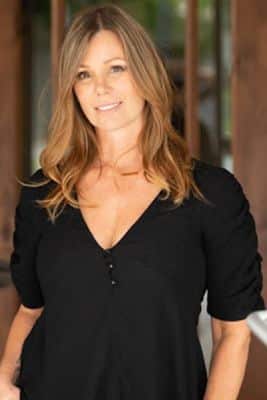 Christine Pipe
Christine received her Business in Dentistry certification from the University of Alberta and is also a certified Canadian Dental Anesthesia Assistant. Throughout her career she has accumulated over 30 years of experience in dentistry and completed the HR Management Certification from Cornell University. Over 9 years as the Office Manager here at Horizon Dental, which is proudly a College certified facility providing deep sedation since 2012, Christine has enjoyed working with the team of professionals to provide Oral Surgery four times per year. When she is not in the office helping patients with their oral care needs, she can be found enjoying outdoor sports, gardening, cooking and country living with her family.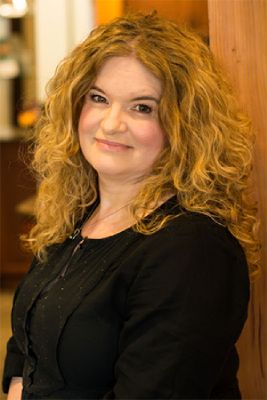 Edwarda DeViveiros
Edwarda has worked with Dr. Nenninger and the Horizon Dental Team for over 20 years. She specializes in account management and is an expert in her field.
Edwarda is a liaison for the local regional hospital to our patients needing treatment in a hospital setting.
Edwarda enjoys staying fit and long walks with her husband and dog, Mosely. She is passionate about travelling, cooking, baking and spending time with her daughters.
A Comfortable Experience
Our Dental Reception Team is responsible for greeting and assisting patients the moment they enter our office. They schedule appointments, maintain accounts and assist our patients with their dental related queries. They are also experts in coordinating our dentist's schedules, billing and dealing with insurance companies.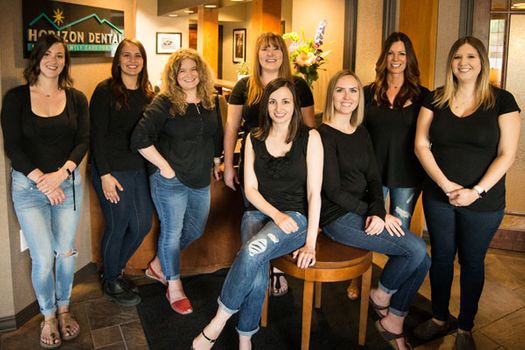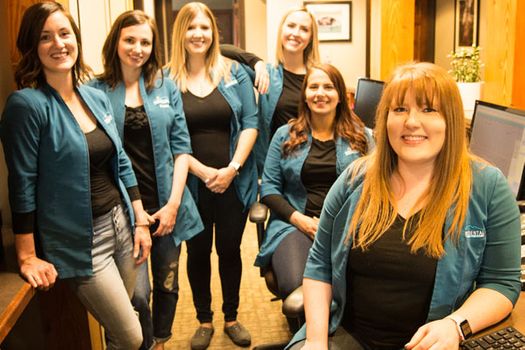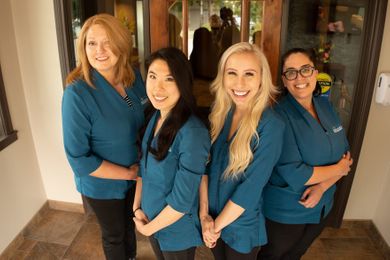 Dental Hygienists
A dental hygienist is a licensed primary healthcare professional who works in the field of dentistry. They work under the direction of other dental professionals, and are trained and educated in the prevention and treatment of oral diseases. Some of our hygienists are also trained in other areas such as orthodontics and 3D imaging.
Certified Dental Assistants
Our certified dental assistants are dental health professionals who work closely with and under the supervision of a dentist. They work with patients by performing tasks before and after the dentist meets with the patient as well as assisting the dentist during certain dental procedures.
CDAs can have specific modules that they have studied for and written exams to be able to perform extra tasks including orthodontics, prosthodontics and dental anesthesia assistant.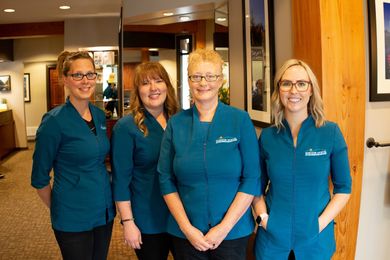 Chairside Assistants
At Horizon Dental, we have developed an excellent working relationship with Vancouver Community College. We take on students that are working towards becoming a CDA through distance education. This process can take 2-5 years to complete; during that time the chairside assistant works alongside the dentist under supervision.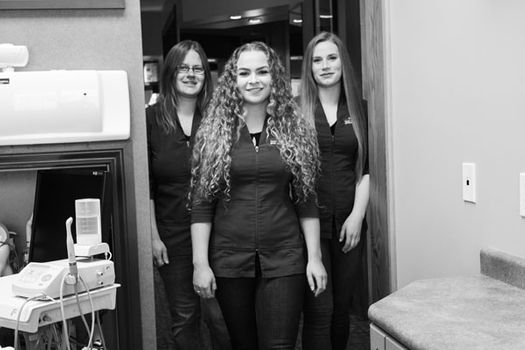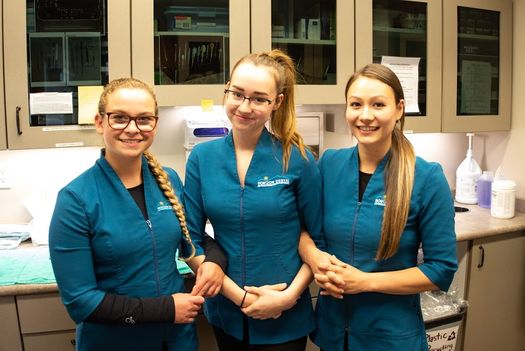 Call
250-635-1213 | 800-549-5594
Working Hours
Monday: 8am – 5pm
Tuesday – Thursday: 8am – 6pm
Friday: 8am – 5pm
Closed on Saturday, Sunday and Statutory holidays.
Address
4663 Park Avenue
Terrace, BC V8G 1V9